Meet The Running Champion – Juliet
Short Facts
Name: Juliet Champion
Sport: Runner (from 1000m to Ultra Marathons)
Born: 1979 Education: Primary to University (Communications and radio journalism)
Work Experience: Civil servant in England
Juliet is really a CHAMPION!
I got to know Juliet when I was running beside her during the winter cup series here in Hamburg. In this cup, we as runners can choose to run three different distances varying from 3K up to 10K. When I was trying to run my fastest on the 6K event, Juliet would take part in all three in one row (ca 18 km in total). On top of that she would be the fastest woman on all three events.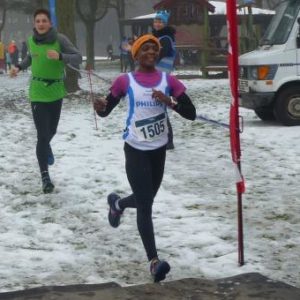 Juliet Champion was born in Uganda and moved to England when she was 12. At 25, Juliet decided to run or cycle 5 miles to work, and occasional long runs at the weekend. Turning 30, Juliet began competing, and in late 2009 she finished 4th woman in her first 10K race. Within a few months, Juliet's time was 40:24, and her first half marathon time was 1:33:21.
Competing took a back-seat for a few years while Juliet had a baby girl and married Alan Champion. However, Juliet did manage to run the British 10K in just over 50 minutes – when 6 months pregnant!
In May 2012, Juliet completed her first marathon race in Italy, finishing 3rd woman in sub-3:15. And just days before she turned 34, she ran a sub-3 hour marathon in Montpelier.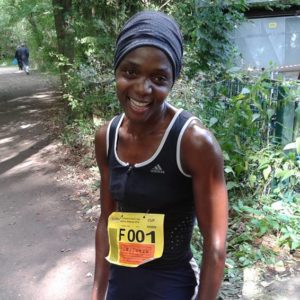 A few months later, she was also motivated to smash sub-40 mins for 10K. By the end of 2013, aged 34, Juliet's best 10K time was 37:43, and just before becoming a W35 veteran, her best half marathon was 1:24:40.
Moving from France back to UK and then to Germany in 2015 was unsettling to Juliet for over a year and injury niggles followed. Since the middle of 2015, Juliet has been returning to form and is now recharged to train for a sub-3 hour marathon target. However, life has again taken a new path for Juliet, where she and her family just recently moved to Belgium.
Why and how did you start running and competing?
I was introduced to running at primary school in Uganda from about eight years old.  I have memories of training on a soft track of grass. We would compete in school sports days, 'home' and 'away'. I loved running, and running fast against my competition.  I recall getting annoyed when I started developing breasts, for instance. I had to slow down slightly because my chest hurt whenever I run fast. I wished for small to no breasts in order to run fast and stay competitive.
My earlier years were disrupted by many events including war. These disruptions meant I lost access to Ugandan schools and sports days, too. Also, something I am realizing with age, I lost the confidence that comes from exposure to competitive running from an early age.
After Uganda, I did some competitive sports at secondary school in England (my new adoptive country). Although, I enjoyed practicing sport, unfortunately, I did not have direction or support from my family at the time. I drifted away from competitive running. Instead, I just ran to stay fit. I also developed interest in other sports, taking up cycling, for instance, to compliment my running.
Why do you still run Juliet?
I love running for many reasons. For instance, I used to love being competitive, running against boys, especially. Nowadays, I run competitively due to Alan. He reintroduced me to competitive running as recent as 2009. I have taken part in different running events ranging from short to ultramarathon distances. I prefer endurance long events, though.
I run because I like the adrenaline effect and it is a great way to let go of stress, to keep fit and feel free! What is more, running is a relatively an inexpensive activity, which anyone can take up – at any stage of their life. Most important of all reasons is that I love the freedom I feel when running and the belief that God has given me a gift to run and strength to worship him through my running and my form.
How often do you train? Two times per day? How many kilometres, or how many minutes in one week?
Running and cycling for me are more lifestyle activities, and not a job. Although, I sometimes get frustrated when I do not do well, partly because of that competitive seed inside of me that never fully developed.
I will train regularly, but these days, my activities are dictated and affected by the family commitments. I have started using a training program for marathons, for instance. This can be difficult to follow if for instance we have to move, change jobs, and so on. Normally, I will take up a 12 to 16 weeks training plan for specific marathon. Otherwise, I do not train specifically for short distances. But maybe I should!!!
How do you plan your training week? Hard day followed by an easy day? Do you have a trainer?
I do not have a trainer. I draw up my own training programs using gmail calendar and then share it with my husband, so he can see my activities to avoid any clashing. A sample in a 12 – 16 weeks training plan for a marathon, for instance, will be as follows:
Monday: 6 mile (10 km) recovery run
Tuesday: Speed drills
Wednesday: Medium long run
Thursday: Speed /intervals
Friday: Tempo run
Saturday: Rest day/Cross training
Sunday: Competition, or long run
Of course, a perfect plan would have a massage day, a cross training day, and a rest day. Ideally, I would like to do more cross training, I am planning to be more organized once we have settled in Belgium!
How do you keep track on your training and your progression? How do you follow-up your training? Do you keep a training-diary?
I use my calendar and data on my Garmin connect account, although, I am not very disciplined and experienced.
How do you pick your running paces? I find it difficult to know what paces to choose for normal distance runs, easy runs, and long runs. I think it is easy to sometimes run a bit too fast, when the body feels good.
I have normally picked a slower pace when going on distance and long runs with much slower pace on easy runs.
For instance, I will run 10 miles (16km) with 3 miles at my 5km race pace (between 3:30 and 3:40); or total 22 miles (15 miles at 4:30 pace and 7 miles at 4:05-4:10 pace); otherwise, I will run 24 miles at 5:00 pace for pure endurance and for my body to master running long distance. On easy days – depending on what I have done the day before and or what is coming up, I will run at recovery pace of 4:50-5:10, or slower. At the moment, these paces and styles of training work for me at most short distances, except marathons. For the latter, I have to focus on training at marathon pace of 4:04 – 4:10 or better.
One thing I have learnt from running in Hamburg is the importance of mastering and tuning your own race pace. Practise it over and over, until you feel it, until your body and mind can fully understand and memorise the feeling and understands how to cope with it. Until your body adapts and responds in the way you have tuned it. I have some work to do on pacing for my marathon projects, therefore.
How often in a week do you run intervals, and tempo runs? What are your paces at 200 meter, 400 meter and 1000 meter intervals?
I am not sure what my 200/400m speeds are, I have not timed myself. My current 1000 m time is 3:14, maybe better.
Did you ever reach a plateau in your running where you had to find new ways and methods to improve your running?
I like mixing my activities to avoid reaching a plateau phase!
I believe in doing a combination of sports that eventually would yield good result. With different sports you work different muscles and in the end you get a well-rounded ability to handle different challenges. For instance, I used to play badminton to help with speed and quick reaction. Also, I like running trails (I love trails), cycling road and trail/mountain bike. In summer I play volleyball and winter we go skiing, as part of my cross training. So, I like to mix my activities, to keep challenging and push myself physically and mentally and spiritually.
What are the most frequent injuries that you get from running? or example knee-pains, back pains, hip problems
I have had pain in my hip joints and core muscles for about three years now (…could come from pregnancy…). So, I find long runs of 25 to 50 km very hard. I start to get pain after 25 kilometres, so running marathons is proving very hard at the moment. Also, I gather tension in my shoulders and neck muscles and this can affect how I move my arms when running.
Some of the pain is stress related. For instance, moving from England to France, to Germany then now to Belgium – I find this kind of stress hard to handle. Also, looking after a child, this is different work from a full time job, I believe. So, all these factors have probably caused muscularly tension and stress, which is affecting me psychologically and therefore my ability to relax when running long distances.
How do you prevent injuries and over-training?
This is a tricky question for me because I always get carried away with running, with doing more than I need to, then I realize when it is too late that perhaps I should have rested on that day instead of doing that run! I try to take time out and do some cycling instead. Other problem is that I am not good at not doing something!! (So, you are a typical runner, and endurance athlete J!).
I like stretching and just tending to my muscles to relieve them of the tension and stress.
How do you recover from your hard runs, and your competitions?
It depends on how hard I ran. I use stretching; showers and very long baths; drinking a cocktail of lemon, ginger, turmeric and honey. I use my recovery tools including foam roller, if the muscles are not too tender. In addition, I use a massager device with electrodes. Perfect recovery would be cycling. However, living in Hamburg for the last year or so, I did little to no cycling at all. Why? You may ask!! Roads are very unfriendly (I found). Drivers are very impatient with cyclists. So, I try to rest, apply self-massage, go walking and use the gym.
Do you keep a strict diet to be at your fastest competition weight?
No, but I know that this is important. Running and cycling are lifestyle activities, helping me stay fit and healthy.  I train to ensure my body is strong, ready and healthy to take on challenges and to discover how much my body can endure.
I am too disorganized to follow strict diets, but I would like to be able to understand and apply food in order to improve my performance. Right now, I am lacking the knowledge, experience and patience. For a marathon, for instance, I am probably not eating enough of the correct things. As for recovery food, after an event this could be better. I am working on this.
How does a general day look for you?
These days, I do not have a typical day, for instance, family commitment shape my day!
When do you preferably train?
I prefer to train first thing in the morning, as early as 05:00; and then in the evening between 18:00 and 20:00.
What do you eat for breakfast?
I have gone back to basics now: layered fruit (Blueberries, raspberries, strawberries, banana); oats porridge; topped with natural Greek yoghurt with honey – washed down with an espresso!
Thirty minutes before I eat my breakfast and time allowing, I will have a glass of warm water with freshly squeezed lemon. I drink this through a straw to preserve my teeth from the acid in the lemon.
What do you preferably to eat for lunch and dinner?
Again, I can be very disorganized and not have the right food, but when I have time, I eat a salad, pasta, or just a sandwich. My ideal lunch would be a jacket potato with Salmon or Nice salad. For dinner, if I have a race, I will eat rice or pasta with chicken, mushrooms or pork. Also, a salad and so on. I like to keep it simple!!
I snack on mixed nuts and dried fruit (cranberries especially). I like and eat fresh fruit. Sometimes, chocolate!!!
Do you have eating habits that you know are not so "healthy" in the long run, but that you seems not to be able to change? For example a weakness for chocolate?
Coffee, I can live on coffee!